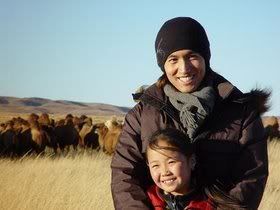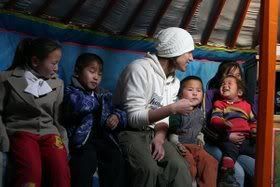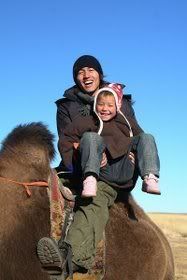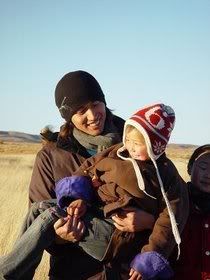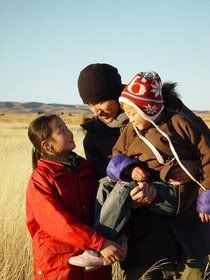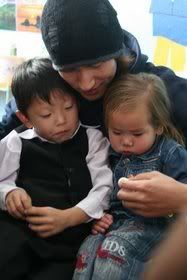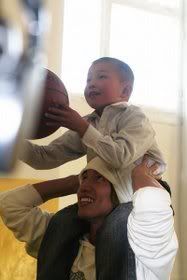 source: World Vision
Jerry Yan connects love throughout Asia
translated by: yanaliao@F4Pilipina s
From www.nbbbs.com, posted by helenylo
source: http://www2. worldvision. org.tw/see. asp?serial= 1084
Jerry Yan connects love throughout Asia, making the world so near, Sponsorship and Love in one for [700 yuan a month!] Through the sponsor-a-child program, be a part in giving aid to the story of every child in the world.
Coming back to Taiwan with a covered face saying it is due to frostbite and sunburn, everything that Jerry Yan has experienced in Mongolia, stirred up the fans and media at once, what did he really underwent during this trip, is what everybody is anticipating; and during the presscon after coming back for two days, Jerry Yan shows up and shares to the whole world his insights during his stay in Mongolia.
During this almost-Internationa l Pess Conference, aside from reporters from Taiwan, reporters from Malaysia also broadcast this at the same time. Director of World Vision Taiwan Tu Ming Han states that 400,000,000 people in the whole world do not drink fresh water, about 121,000,000 people are deprived from school, 11,000,000 cannot live beyond 5 years old, these figures can be gruesome, and this time by inviting Jerry Yan as the spokesperson in Asia, we are hoping to make more people be aware of the most important factor. Sponsor-a-child campaign is a form of accompanying one child in terms of growth, may it be spiritual, environmental growth and many others. As of now, the whole world has 3,000,000 sponsors who have joined this campaign, hopefully, we could still add 3,500,000 more sponsorship so that more children could be given help. Director Tu expressed that Jerry Yan's move is a true biography, a written book of courage, love and risks; Surely much more people will be aware of it and even be involved with giving care.
First time to be a [Father], he felt happy and special
After the Press Conference, Jerry Yan shared his experience with sunburn in Mongolia, [In Mongolia, the temperature can go negative 35 degrees, while during day time it's really hot there, I neglected the hot temperature and did not take note how long I was under the heat, and most of the time I was very lazy, but I'm fine now, please do not worry about me.] Although he's faced with an uncomfortable sunburn, Jerry expressed that he was very happy to be with World Vision in Mongolia, before he went for this trip he already knew what he would encounter, [including the water to be used to wash my face, it would be very cold, but when I saw the child's very ordinary reaction, even if they lack basic needs, they live ordinarily, happily and even share it with you, even if the child doesn't like it, he doesn't tell, in this kind of gesture, I think I saw myself when I used to be that naive and simple.] Jerry says, I'm very happy to be able to gather my strength, I believe that more people will be aware how these children need them.
Aside from these, Jerry Yan also shared how to be a father the first time, [I never thought I could be a father one day, the feeling is too immense, I was holding a very happy moment, hoping I could make them happy, but when I went to visit them, it seems like its in a movie or TV, most of them are kids, facing all the hardships, my heart cannot bear to see it, and even told myself to be brave enough in facing my life.]
While mentioning this, Jerry even remembered a child from his first visit named Si Ma, the child suffered from imperforated anus, and was even abandoned by her father, letting the child shoulder the body and spiritual difficulty at an early age. Through World Vision's assistance, Si Ma can undergo surgery at Singapore, undergoing a number of major operations, upto this day, Si Ma's condition has received tremendous improvement, her life started to leave the difficulties she has undergone. [It's my first time to see so many scars in one body part, it even happened on a 12-year old girl. When I asked her how would she deal with her father abandoning her, I can see that she doesn't want to speak, that kind of stare, I can still remember it until now; I was wishing I could ask the question in an indirect way, so as not to hurt her feelings even more…]
When asked about Jerry's sponsored child BA Dan, Jerry said: [He is almost similar to me, I really love this kind of feeling, knowing I gave only 700 Yuan, we can have a meal or buy new clothes, but then it could already change a life of one child.]
Spent the time meeting children at the "Vast Desert", I saw my past and future
Opening up another topic, Jerry mentioned that during this trip, he felt he doesn't know how to interact with people, [I'm like a Big Kid, I still have a lot to learn.] He remembered a time when he was playing basketball with a kid, [The kids were really short that I'm afraid I could accidentally kick them, and still, I don't know how to play with them. In the end, there were other friends who joined us, seeing them play with those kids, I realized I can carry them on my shoulder and play with them.] During this trip he also recalled how he makes some gesture with his family, [I love my mom, but I don't know how to express it, I often blame myself to express how I care for her.]
During this trip, Jerry Yan also visited those kids which were sponsored by the fans for almost 5 years, his deepest impression went to Na Lan BAi Ya whose father was diagnosed with liver cancer, while the mother makes handicrafts for living, income can only reach less than 500NT a month which must take care of 3 little girls, [Maybe because I grew from a family of single parent, I can absorb what they're going through, when I knew that their father will not stay long in this world, looking at their kids, when time comes they could end up like me…] as he talked about it, Jerry's unable to hide his sadness.
[Personally, I'm a guy who is easily affected with anything, I feel like crying whenever I recall everything that has happened.] This time he said, aside from his underwear, everything that he brought with him like goodies, school supplies and shirts were all given to the children, he recalled when he was a kid, every New Year, there is this uncle from Hong Kong who brings Peking Duck to them during his visit, this is one of the best memories he had when he was a kid, [Until now, I would still visit that Uncle, I felt that the kids and I share the same feeling, hoping that this person would always be around, always bringing them a good memory during their childhood.]
Jerry even expressed, not only in Mongolia, there are more places in the world which need help, he hopes that in the future he can preserve a long-term relationship with World Vision, not only just a spokesperson, but a true worker, [Whatever I can do, I'll try my best to do it.] Jerry Yan mentioned that he is very thankful for World Vision Taiwan for giving him a chance to see what the world needs, in the near future, not only he is involved with the Sponsor-a-child program, he also wanted to encourage relatives and friends to join this [Sponsor-a-child Program], [In Mongolia, most of the family can only earn less than 500NT a month, for just 700 yuan, we can give a lot of help for these families.]
SPOKESPERSON FOR ASIA, SPREADING HIS LOVE AND CARE
World Vision Taiwan expressed, Virtue will not lead to solidarity, surely it will gain you a neighbor! Aside from Jerry Yan being the spokesperson, the Sponsor-A-Child program has already gained 3,000,000 sponsors, in Taiwan, we would like to thank each host and Taiwan Gu Wang ADSL Ltd. Co. for its strong recommendation for the Sponsor-A-Child program, they have been participating for three years now and even helped in promotions and spreading the program throughout Asia, it also included the backdrops for this Press Conference, etc; GRAND FORMOSA REGENT TAIPEI has also prepared a Christmas-lighting Charity Event, Yahoo Kimo has given a charity webpage and blog for advertisement, CARMEX and other products are also willing to help, Taiwan Fur has sponsored the Mongolian trip's coats, the ones Jerry Yan wore were already up for auction in World Vision's Official Website, bidding has already reached 100,000NT.
Jerry Yan will be the spokesperson for the whole Asia including Taiwan and ten more countries (Mongolia, Japan, Malaysia, Singapore, Korea, Philippines, Thailand, India, Hong Kong, etc.) [Sponsor-A-Child Program]'s Spokesperson has already shared his documentary on the life of every Mongolian, this will serve as a call for the rest of Asia, going back to Taiwan, his next stop would be Japan, Jerry expressed: [I hope that there will be more people who would join this program!] Having the same goal with the other 3,000,000 sponsors in the world, Jerry Yan is appealing to every individual, to be able to find 3,500,000 more sponsors, and surpass this Sponsor-A-Child Program together, in order give more kids the help they need.