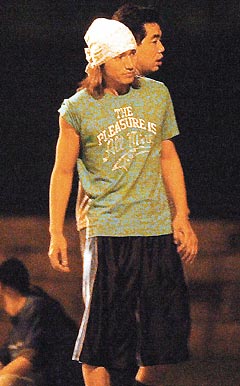 credits to kkla@nbbbs.com
According to today's Lian He Bao, two nights ago, at first, Li Wei played basketball with He Jun Xiang, then "the most touching thing to him (kkla: Li Wei) was that, his good friend in the show business, Yan Cheng Xu, also rushed to the basketball court after getting a phone call, and joined the game. Yan Cheng Xu, who wore tee shirt and sports shorts, showed up to support with his adorable smile (kkla: I guess the reporter is a female, haha...), and competed with Li Wei on the basketball court. With the support from his good friend(s), Li Wei cheered happily."
=============================================================
Li Wei relaxes and plays basketball
Sports a mustache, remembers the beautiful woman
Source: United Daily News (Lian He Bao)
http://udn.com/NEWS/ENTERTAINMENT/ENT1/3724618.shtml
February 11, 2006
Scanned news clipping (page D1)
http://www.nbbbs.com/forum/attachments/0211_6gdLxiVSxdaT.jpg
(Scanned by mamy of Jerry's Harbor)
This news on Jerry parts extracted by Jerry's Kingdom
Two nights ago, after attending Xu Wei Lun's commemorative concert earlier, Li Wei invited in some friends for basketball, and finally came out sporting a mustache.
In the court, his friends Mike He and Bao Long Jerry Yan both went over. After Wei Lun's death, Li Wei's friends knew he was so grieving, so when he invited in for basketball to ease his mind, his non-showbiz and showbiz friends all trooped in at Taipei's Dai Jia riverside park basketball court for Li Wei.
Halfway during the game, it rained and so Li Wei and Mike ran to sit down at the sides and female friends went towards them to offer umbrellas. Li Wei kept laughing but the most touching was when his showbiz friend Jerry Yan received his call, he immediately proceeded to the place. and joined the bull fight. Wearing a Tshirt and breech sports shorts Jerry appeared with exposed charming smiles, competed with Li Wei in the field. With his good friends coming for support, Li Wei cheered happily.