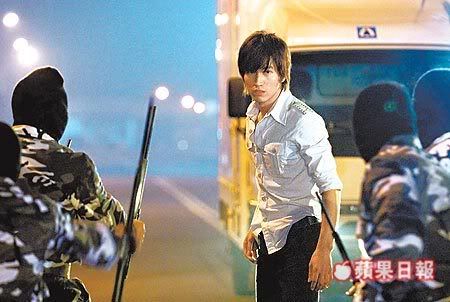 Jan. 7, 2008
TW Apple Daily
Filming Hot Shot, Yan Cheng Xu Has Injuries All Over
In Hot Shot, Yan Cheng Xu has a lot of action scenes, including fighting and playing basketball. As he almost didn't use any body double at all and he insisted to complete the actions himself, the injuries on his body have increased. He didn't only have bruises on his hands, he also twisted his leg, and his fans are very worried. His agent, Zhang Mao Liang, indicates, Yan Cheng Xu has seen the doctor for his injury on his leg and he has had some massage therapy, so fans do not need to worry.
It Is Difficult To Arrange 3 Main Leads' schedule
With 3 A-List actors in Hot Shot, it has attracted people's attention even before its filming. However, they all have other obligations. For stance, Jerry has confirmed that he is only available until the end of February, as he needs to film new tv drama(s) in Tokyo and Mainland China...
credits to kkla@nbbbs.com
-------------------------------------------------------
kkla: Hope the new drama news is accurate. Wait for SJ's confirmation. However, one famous fortune teller in HK did say that Jerry should continue picking up new projects and should not wait for too long.